We measure what matters to
deliver you actionable insights
built on a rigorous data foundation
Decision making is easy when you have great data that is easy to understand. Place Score's products have been designed to reveal the strengths and challenges experienced by your community so you can focus investment where it will have the most benefit.
Let us help you make better places for your community
Place Score collects data directly from the people connected to your place. No assumptions,
no web-scraping. We find out what really matters to your community, and how your places
are performing, then provide you with clear priorities for the future.
Designed for use across multiple disciplines over multiple years – your data is
action-oriented. It can be used for developing a Community Vision down to measuring
the impact of outdoor dining trials.
Liveable Neighbourhoods
No-one really knows how liveable a neighbourhood is –
unless you actually live there.
Place Score is the only nationally consistent liveability measurement system that collects and analyses the data directly from the communities living and working in your neighbourhoods.
The result is data that not only allows for comparison between demographics groups, suburbs, councils and regions but reveals your community's priorities for improving local liveability and community wellbeing.
Once you have the Place Score Liveability Platform it will change the way your organisation works, saving time and resources while tracking the impacts of your work by measuring the outcomes for the community you serve.
Read more about Place Score's Liveable Neighbourhood products below.
Integrated Data Analysis & Tracking
Place Score's ground breaking online data analytics system is a powerful engagement, prioritisation and tracking tool for improving the liveability of your neighbourhoods.
Benefits:
9 key planning themes including movement, economy, facilities and services, and open space
Informs multiple strategies; community, transport, land use and more
Foundation for focussed engagement planning, community panels etc.
Evidence base for grant applications
Tracks changes over time
Alignment of metrics with organisational strategy
Comparison with national trends
Insights on demand
Don't have the time or budget to run your own engagement? Then draw from our over 70,000 strong national benchmark datasets to get an immediate understanding of local values, priorities and potential areas of conflict.
Benefits:
Early project feasibility planning
De-risking community conflicts
Aligning private and public sector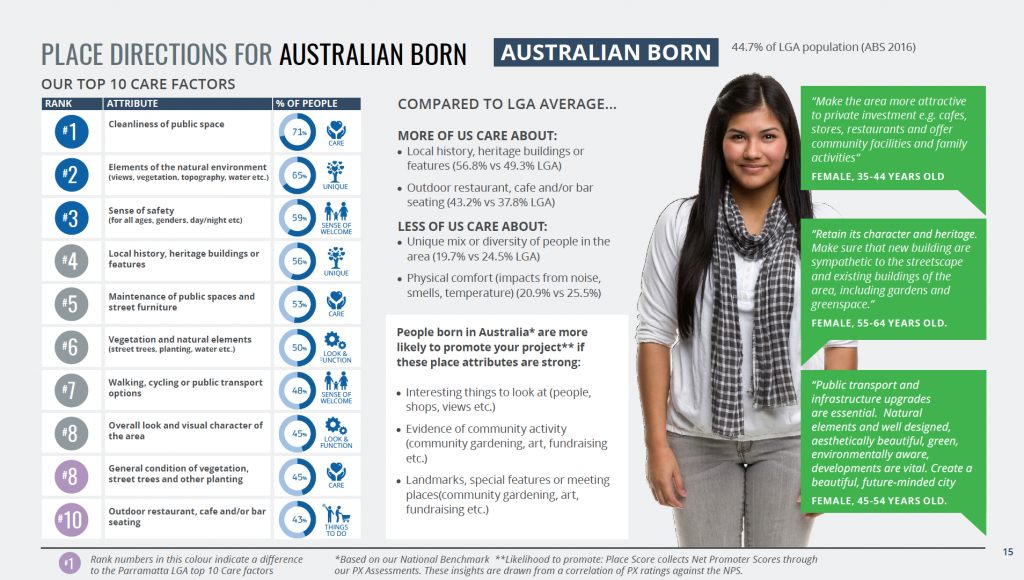 Successful Main Streets
The best main streets attract a diversity of people who want to
spend both time and money – they attract and attach.
Place Score's first tool was the PX Assessment – measuring the 'place experience' (PX)
of main streets. Over time we have developed a powerful range of place
measurement, improvement and tracking products that have helped
over 300 local main street communities and economies.
Main streets depend on their customers to not only survive but to thrive.
Place Score gets to know your customers – what they value and how
they are experiencing your street in order to deliver priorities for
improvement and track changes before and after investment.
Read more about Place Score's Successful Streets products below.
Customer-centric directions for positive change
Place Score's most powerful street tool – we visit your street, collect values and performance data from your community, analyse and provide recommendations to improve customer place experience
Guaranteed minimum participation numbers
Fast and cost efficient
Discipline agnostic – soft and hard infrastructure recommendations
Unbiased data for stakeholder negotiations
Movement and place value add-on
Capture the uplift in customer experience
Move away from anecdotes and opinions to data driven evidence. The Impact Tracker measures place experience during your pop-up or after your streetscape or retail revitalisation project.
Links uplift in place experience scores to specific investments
Report on your KPI's, share your successes and acquit grant requirements
Learn what has the most positive impact on customers in your area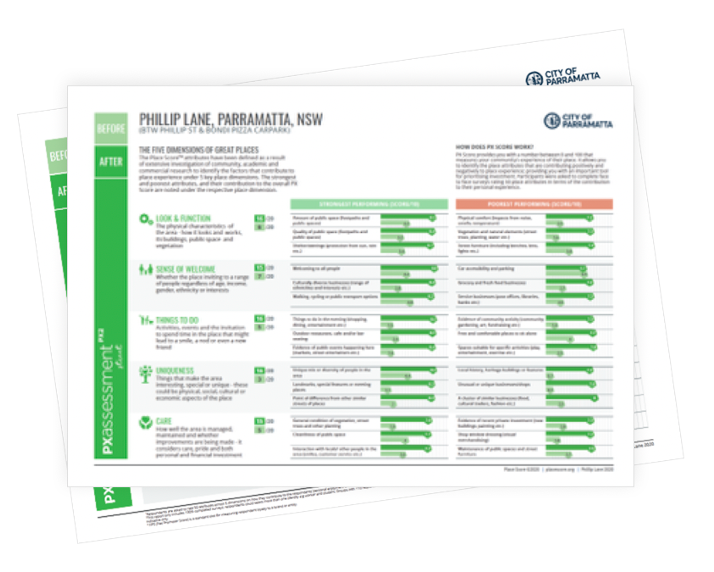 The place performance tool
Want to get an understanding of how your main streets are performing? A PX Assessment provides an overall Place Score as well as revealing what is working well and what may be impacting your customers negatively.
Benefits:
Baseline performance data that is repeatable and comparable
Fast, low cost and representative
Unbiased customer-centric data
Can be undertaken before and after investment
Loveable Parks
There has never been a time when our parks and open spaces have been
so important – but are they delivering what your community needs?
Great parks and open spaces serve a diversity of the local community, providing
important shared amenities and access to nature and the outdoors.
Our Park Score tool assesses the amenity and experience offered by your open space,
and can track change over time before and after improvements are made.
Read more about Place Score's Park Score product below.

The open space performance measurement tool
Want to know how your park or open space is performing from the perspective of its users?
Park Score collects observation studies in your local places to provide baseline and comparison metrics.
Benefits:
Baseline performance data that is repeatable and comparable
Fast, low cost and representative
Unbiased customer-centric data
Can be undertaken before and after investment
Maximise the value
of your data
Place Score data is discipline agnostic, and can inform multiple projects over multiple years, reducing engagement fatigue and increasing the effectiveness of your community's inputs.
Work in Council? Imagine…
Work in development? Imagine…
Live in a community? Imagine…
Establishing a baseline measurement has enabled us to respond in a targeted manner and invest in spaces and places that we know will deliver multiple benefits.
Grissel Walmaggia, Place Making Officer, City of Greater Dandenong
"Place Score data has given us a source of information from a specific group that we can rely on. There is the opportunity to compare the group's values in the future to see how the place is performing. It has given us a point it time perspective of how people experience the place – something that can be remeasured."
Peter Kauter, Manager Placemaking, Woollahra Municipal Council
"Place Score data has provided measurable and comparable place data that highlights what the community values. This enables us to use the data as an evidence base to ensure designs and strategies focus on these highly held values."
Tara McGready, Manager Strategic Planning, Ballina Shire Council
"Place Score is the most sophisticated tool I have seen in the 30 years I've been in place-making."
Sandy Rix, Coordinator City Futures, Charles Sturt Council
"A trader called me earlier today to say she had completed the survey on Sunday. She was very impressed that it made her think of the street in a meaningful way."
Council Officer, Victoria
"Place Score is a powerful engagement tool that helps us uncover the qualities people value in their streets and towns."
Murray West, Urban Strategist, MRCagney